We kindly ask the Luxembourg population to participate in the surveillance of invasive alien mosquitoes, which are quite easily recognised as they all are tiger mosquitoes with white sections on their legs.
Catch a mosquito
Alive: it is quite easy to catch a mosquito with an empty large marmalade glass. After the catch, close the glass and put it in a deep freezer for one hour or overnight, which will kill the mosquito without destroying it. If the specimen is in good condition the Museum will be able to include it in its collections.
Dead: The mosquito can be killed with a fly swatter or a newspaper.
Send a mosquito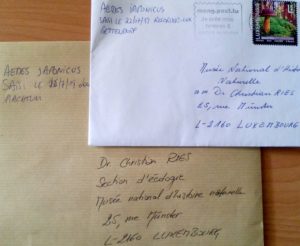 Please write the following information on a piece of paper:
Your name
Your phone number and /or email address (to enable us to contact you)
Location / address of the catch
Type of environment (eg. in a house, outside/near the house, on the street, in the garden, in a forest …)
Date and time of the catch
Please insert the dead mosquito(-es) in a small plastic bag and put it together with the paper in an envelope and send it to the National Museum of Natural History to the following address:
Dr. Christian Ries
Section d'écologie
Musée national d'histoire naturelle
25, rue Münster
L-2160 Luxembourg
What will happen with your data?
The mosquito specimen that you submit to us will be identified and you will receive an email naming the species you caught.
After validation, your observation will be entered in the Museum database (Recorder-Lux) and automatically to GBIF. It will also be used as part of the MosquitoLUX project thus contributing to the production of an up-to-date checklist and atlas of the mosquitoes of Luxembourg.

Page content last updated on 2019-11-07. Last proofread by Caroline Grounds on 2019-11-06.